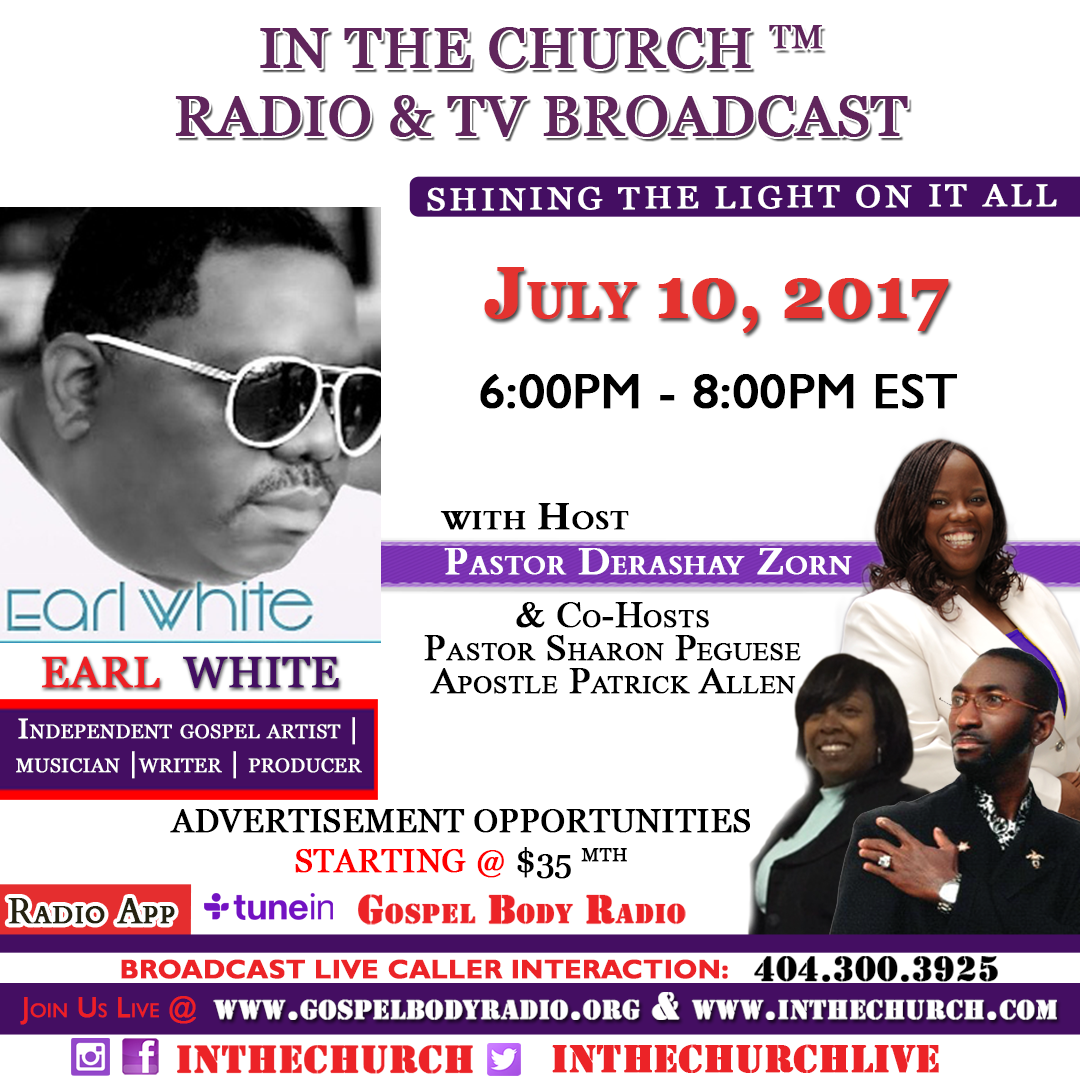 A Faith That Moves "In The Church" EPISODE 40 - 07/10/2017 - Coming Soon
It was an honor to have in the studio Independent Gospel Artist, musician, writer, producer Earl ThebassMan White, as we discuss his latest gospel hit "If You Don't Know".
Earl's music can be purchased on iTunes and Amazon. It is available for streaming on the following mediums, Spotify, iHeart Radio, Google Play, Amazon, and Rhapsody.
https://itunes.apple.com/us/album/if-you-dont-know-single/id429339890
https://itunes.apple.com/us/album/no-fair-weather-friend-feat-shelia-moore-piper-single/id1161856263
Contacts:
Email; daddymusyc1@gmail.com
Facebook Link; Earl thebassman White
Twitter Profile; @EarlWhite6851
Instagram Handle; @daddymusyc
Watch us live "In the Church" via TV or Radio by visiting www.gospelbodyradio.org.
Viewers and listeners can interact live by calling 404.300.3925 with questions, comments, and prayer request.
Hosted by Pastor Derashay Zorn & Co-Host Pastor Sharon McCaskill-Peguese & Apostle Patrick Van Allen
To learn more about "In the Church", view past episodes or to become a guest visit:www.inthechurch.com
Advertisement opportunities are available starting @ $35 a month via Internet TV and Radio visit www.inthechurch.com for more information.
Like Us on Facebook at In the Church